Thursday, July 21, 2005
Scotty Beams Up
Jeezuz, it's been so long since I've blogged I've almost forgotten how to work this bloody thing. Despite the time passing, I can't say it's been filled with excitement. More of a slow countdown until we get off on our summer holidays. Long time coming but in 8 days time thewife and I are heading for Cornwall with a car, a tent, provisions and determination to find cider and generally enjoy ourselves eating pasties and cream, not necessarily on the same plate - although that may depend on the cider. We are going via
Reidki's
on the way down for a short stop of some real life reminiscences with a glass or ten of vino.
So what of note has happened in the past couple of weeks?
Extremely good shit
( I remember him visiting Edinburgh and getting bottled - (No not pished - hit by bottles! Had it been Glasgow they may have been broken first) and
not so good shit
.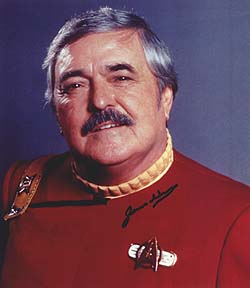 Fare-thee-weel Scotty


Had to drive to work this past week on account of I am not getting a monthly Rail Ticket because I'm off on holiday soon (Did I mention that already) and I am not getting a weekly ticket for 4 days. I really miss the calm of the train and the opportunity to struggle with the Guardian Crossword (No not the wee one!) That and there are times on the way home where on the train I would nod off, but you can't for fear of this happening.



Aspiringly Middle Class


The barbecue was wheeled out on one of those beautiful nights we had recently. And we fully displayed our middle class aspirations/pretensions by sitting out the back yard eating bloody good steaks accompanied by very fine wine indeed. Thewife was a bit of a connoisseur, still is if the money will stretch that far, so this little beaut is usually nearly twenty quid in Tesco's and they have it on offer for £12.99 practically a steal I say. Of course then the local kids show up and climb up on the lockup roofs and start doing all that macho kids stuff crap. Which kind of brought us home to fact that if we really have aspirations/delusions to/of grandeur then we really should think of living elsewhere, but we love it here so I suppose we'll have to put up with it. But hey, kids leave the buddleias alone!
posted by timesnewroman at 6:35 AM