Sunday, March 13, 2005
Where did the weekend go?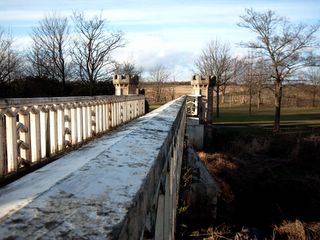 Tournament Bridge

thewife and I went for a walk around Eglinton Park. It was very cold, even snowing for a spell, but when the sun was it out it was very beautiful. I expected a carpet of crocuses, snowdrops and daffodils, but they aren't out yet, maybe next week.
The weekend just seemed to disappear a bit too quickly. Spent Saturday afternoon at the footie and after last week's dreadful episode we started this week pretty much the same against the Arabs. Nevertheless we did manage to score first which set us up for a while, despite some of the worst referreeing decisions I've seen for a while. There are moments when you can completely undestand the bile directed at referees although after the final whistle you realise how ridiculous it is and that its just a game really. Well for most of us anyway, it is. I'm sure there are some mad buggers out there though as
Anders Frisk
will testify.
A penalty awarded against us for the most blatant dive. The keeper saved it though, its amazing how often that happens when it's clearly a wrong decision on the refs part.
After that we were pretty much the better side although if United had took the chances they had it could have been very different. The final goal by Danny Invincible was a cracker though and 3-0 will do me nicely.
posted by timesnewroman at 6:00 PM